The OASIS Hammock Bathtubs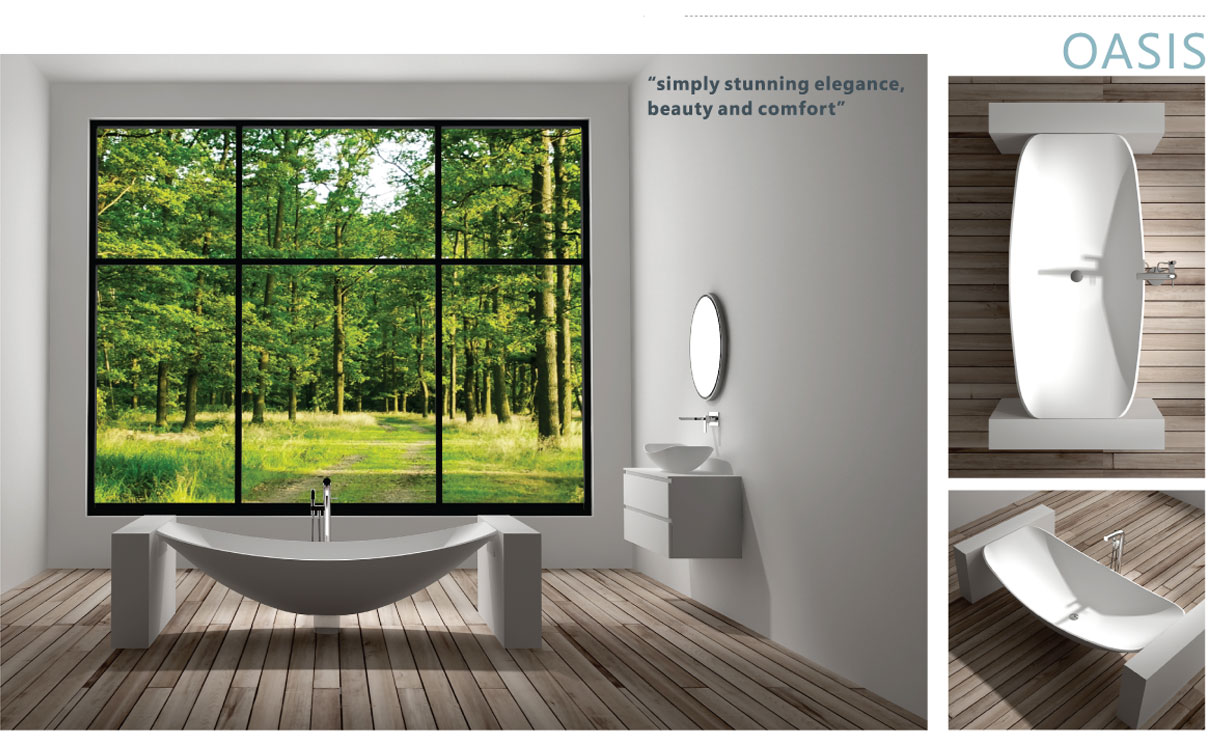 Solid Surface Luxury Freestanding Bathtubs
These solid surface, luxury, flat bottom, freestanding bathtubs resemble a hammock. Done in Stone Resin these baths, bridge between two walls. They are a worlds first in tub design.
The Oasis is the most relaxing solid bathtub you will ever have the pleasure of bathing in. The elegance of the Oasis will be the feature of your bathroom.
MODEL: OASIS
FREESTANDING TUB DETAILS: Luxury Freestanding Bathtub suspended between 2 walls
BATHTUB MATERIALS: Solid Surface/Stone Resin
TWO FREESTANDING TUB SIZES AVAILABLE
TUB LARGE: 
Metric Tub Size: 2000mm Long x 1000mm Wide x 650mm High
U.S. Imperial Bathtub Size: 78.75 inches in length and 39.37 inches in width and 25.63 inches deep.
TUB SMALL:
Metric Bath Size: 1800mm Long x 900mm wide x 586mm high
U.S. Imperial Tub Size: 70.86 inches in length and 34.43 inches in width and 23.1 inches deep.
TUB WEIGHT:  
140kg in metric and in US Imperial it is 308 pounds.
WEIGHT CAPACITY:
Large Luxury hammock 2000mm bathtub weight capacity: 190 litres of water with a depth of 651mm.
In the USA the weight capacity is: 50 gallons to fill the bathtub and 25.63 inches deep.
The smaller 1800mm hammock bathtub:  150 litres of water with a depth of 586mm. 
In the United States of America the weight capacity is: 39.6g of bathtub water for the 70.86″ tub and 23.1 inches deep.
WARRANTY: 5yrs manufacturers
DELIVERY: We deliver to the USA, UK, AUS, CHINA and worldwide.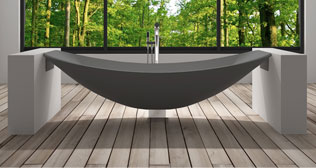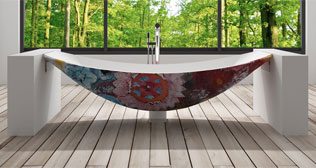 Like to know more about the Oasis or any other products?
Contact the us about our range including the OASIS, HAVEN, MIRAGE and the Hammock Basin. Please add your details below.